Eduation for Sustainable Development
The term "Sustainable Development" means the international recognised ideal of future capacity in our global community. Socially important topics like cultur, socialising and the economic potential shall harmonize in an environmental friendly way.
Links: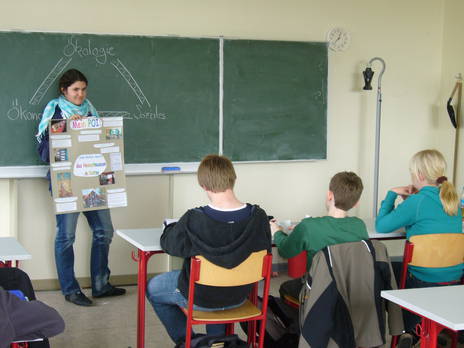 "Education for Sustainable Development"
"Sustainability" means that today and future generations will have access to resources to fulfil their needs.
This process oriented and open-ended understanding of education requires the use of participatory methods. Thereby peoples abilities for participation will be encouraged.
Education for sustainable development develops, where appropiate, the topics from the ecologically, economic, social and global point of view. For this purpose cooperation structures with instituions and initiatives from different fields are conductive.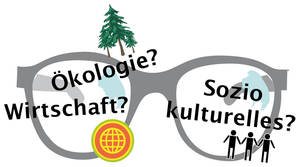 The aim of ESD is to ensure that individuals acquire the skills necessary for actively and responsibly shaping their future in the interest of a Education for sustainable development. In this context rational, emotional as well as action-related components and the ability of judgement play a key role.
The concept for the acquisition of participatory skills (Gestaltungskompetenzen) was developed and tested from Gerhard de Haan (2008).
"Gestaltungskompetenz" describes the ability to apply knowledge about sustainable development and recognise the problems involved in non-sustainable development.
In other words, being able to draw conclusions about environmental, economic and social developments and their interdependence from analyses of the present and studies of the future, and to use them as a basis for taking, understanding and implementing desisions that permit the realisation of sutainable development processes. "Gestaltungskompetenz" can be split into twelve sub-competencies, namely the ability to:
gather knowledge in a spirit of openness to the world, integrating new perspectives;
think and act in a forward-looking manner;
acquire knowledge and acting in an interdisciplinary manner;
deal with incomplete and overly complex information;
co-operate in decision-making processes;
cope with individual dilemmatic situation of decision-making;
participate in collective decision-making processes;
motivate oneself as well as others to become active;
reflect upon one's own principles and those of others;
refer to the idea of equity in decision-making and planning actions;
plan and act autonomously: and
show empathy for and solidarity with the disadvantaged.
In order to promote structural competence successfully, it is important to enable key issues of sustainable development and a self-organized learning close to reality.
Furthermore mention must be to allow student participation in the education process.